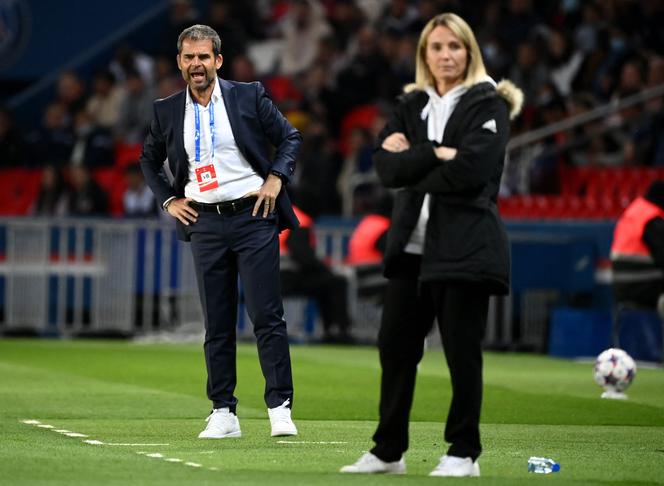 The coach of Paris-Saint-Germain (PSG) women, Didier Ollé-Nicolle, was "laid off" temporarily take the time to investigate "inappropriate facts and remarks" who are accused of him, announced the club, Tuesday, May 24.
This sidelining, "conservatory and temporary" and take "by mutual agreement", "in no way prejudges the results of the internal investigation that will be conducted, nor the decisions that the club may have to make", adds PSG, without giving more details on the nature of the facts accused of the technician, who arrived this season at the club and is under contract until June 2023. "These facts and statements, if confirmed, would be incompatible with the sporting and human values of Paris-Saint-Germain", the club continued in a statement.
The judicial police of Versailles also seized the file. The player, who did not file a complaint, was heard, it was learned from a source close to the investigation confirming an information from RMC Sport.
Disrupted season
Throughout the day of Tuesday, interviews were conducted by PSG's human resources services with members of the management and the players, heard on this file, it was learned from a source with knowledge of the file. The coach was also received by this club delegation, it was learned from the same source.
The facts go back to PSG's pre-season period in the United States, during which the club had "had an echo" of a "misplaced gesture" from the coach to a player on the roster, this source continued. At the time, the subject had been closed by mutual agreement after all the parties had been heard but the club decided to pull together on Tuesday after the dissemination of several new information on social networks in recent days. Asked by Agence France-Presse, the 60-year-old coach had not acted on Tuesday in the middle of the evening.
The women's PSG has seen its season disrupted by extra-sporting facts, first of all the still unsolved aggression in November of its midfielder, Kheira Hamraoui, who fell out with several teammates and who is currently training away from the professional group.
Read also
PSG footballer Kheira Hamraoui assault: Eric Abidal, former international player, soon to be heard